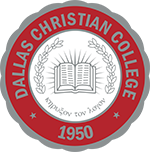 FOR IMMEDIATE RELEASE: August 10, 2016
Worship Arts Department Announces Hiring of New Choir Director, Other Exciting Changes

Bruce Long, Interim Vice President for Academic Affairs, Released the Following Statement Regarding Changes to Worship Arts Program
"The worship arts major is one of our flagship programs, from leading music in our chapel services to traveling across the country on choir tours–the department and its students are invaluable. We believe that the Worship Arts program is vital in our mission to producing graduates who will influence the church and world through the ministry of music and arts for God's Kingdom, just as it has done for many years.
Over the 66 years of DCC's existence, the church and society have continued to change. Accordingly, DCC's administration maintains ongoing assessment to provide us the information we need to change and improve the program to meet the needs of today's church and to better equip students for productive careers upon graduation.
 Now I would like to introduce some exciting changes and additions to the program for this upcoming year.
Administrative Additions
I am excited to announce that we have hired Kelly Pfaffenberger as our new Worship Arts Coordinator and Choir Director. Along with directing choir, Mrs. Pfaffenberger will also be advising Worship Arts students and coordinating assessment in the Worship Arts Department.
Kelly has an extensive background in choral conducting, including at Southern Methodist University, First Baptist Farmers Branch, and at multiple school districts in the Dallas-Fort Worth area. She has a Master's of Music from the University of North Texas and a Bachelor of Music Education from Hardin-Simmons University. Furthermore, she has served as a clinician, accompanist, and consultant for a number of DFW area choral programs. I believe that our choir and program advising will be in good hands to say the least!
Beginning this fall, choir will meet on MWF (11-11:50 a.m.) and participate in Christmas Dinner Theater and other productions throughout the year. She will be introducing her musical selections for the upcoming year in the coming weeks.
We are also excited to announce that former Worship Arts Department Chair, Scott Spies, will be teaching a FLEXCampus® class this fall in the Worship Arts curriculum. Also, Bonnie Graem, who has taught at DCC for many years, will continue teaching piano lessons and other classes as needed. We are also pleased to announce that Sarah Daniels, Shayne Green, and Debbie Lamb, who have all been well received by our students, will continue teaching in the program this fall as well.
Curricular Changes
The 2016-2017 DCC Catalog lists the revised B.S. Worships Arts and Bible degree program for new students or any returning students wanting to move to this newly tweaked program.  Essentially, this program will continue almost exactly like the previous Worship Arts and Bible Worship Ministry Leadership Track. There have been two basic changes:
Two classes—Foundations of Music I and Foundations of Music II—have been added to the degree program in order to bolster the musical knowledge of the graduates of the program. There are fewer Worship Arts electives required although the total number of credit hours in the major remains the same. We have also added more Ministry Studies elective options to the program.
The Music Ministry Leadership Track has been dropped from the B.S. Worship Arts and Bible degree program. Those in this track who choose not to switch to the slightly modified B.S. Worships Arts and Bible degree program will be given help and opportunity to finish out their chosen track.
 President Smith and the administrative team remain steadfast in our commitment to producing DCC worship arts graduates who are well prepared and making an impact on the church and the community. It is our belief that now more than ever before we must be people of worship–both scripturally grounded and authentic. And we desire for our graduates to be leaders and influencers of this movement – this generation needs it!
Bruce Long
Interim VP for Academic Affairs
###
The mission of Dallas Christian College is to educate and mentor students to be people of influence, under God's influence, for a life of influence.
Public Relations Contact:
Matthew Meeks
VP for Communications
mmeeks@dallas.edu
(214) 453-8161