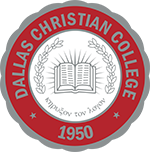 FOR IMMEDIATE RELEASE: August 31, 2016
Restructuring Student Learning Center Leads to Reduced Staffing at Dallas Christian College
DALLAS, August 31, 2016- The announced restructuring of the Dallas Christian College (DCC) Academic Mentoring and Student Learning Center brings some great changes for DCC students, but it also means a reduction in staffing. Mr. "Sparky" Montoya will no longer be serving as academic mentor.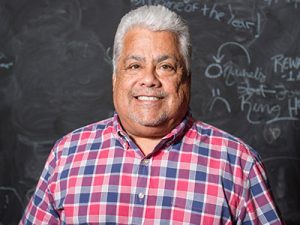 Faculty, staff, and students will all miss Sparky's work and presence on the campus. He has been at DCC for 10 years, putting in place an excellent system of student tutoring (while at the same time completing his M.S. in Student Affairs at Texas A&M Commerce).
Sparky and his team of student tutors have created a great culture on campus. In some learning centers, there is a stigma that "only the poor students need to go there." While underperforming students are required to go to the learning center for help, many higher performing students are also there of their own choosing, because they want to do better. The coaches, too, depend on the learning center to help student athletes stay caught up with academics when the game schedule makes it really tough.
Vice-President for Institutional Advancement Mark Worley highlights that "Sparky has brought to DCC a unique perspective – he's a DCC alum who experienced the joy of learning here."
President Brian Smith describes meeting Sparky: "From the moment I first met Sparky in the fall of 2014, I have been impressed by his positive attitude and willingness to serve. His humility and compassion have made him such a valuable asset to the work of DCC. I am certain that he will continue to make us proud at DCC as he continues to serve our Lord."
Interim Vice President for Academic Affairs Bruce Long notes, "Sparky puts together a great team of student tutors every semester that work hard to fulfill the DCC mission to educate and mentor students. Personally, I have also appreciated that when Sparky comes by my office, he greets me with a handshake and a warm smile. It brightens my day. I'll miss that." Facilities Director Gary Adams echoes that feeling:"I'll miss all the personal conversations."
Sparky clearly understood that his job meant more than just helping students succeed in academics. "Every semester dozens of students sought Sparky for help completing everything from homework to navigating job and family issues," reports Dean of Admissions and Professor of History Mark Fish.
Assistant Dean and Registrar Crystal Laidacker confirms that with a specific example: "His ability to relate to students and identify their needs beyond the classroom has often been the key to reaching out to students. He's been the embodiment of mentoring, most evident when one of our 2015 grads identified him as the key person who meant the difference between giving up on college or persisting on to graduation. That alum now serves on the mission field in Haiti. That's mentoring students 'to be people of influence, under God's influence, for a life of influence' at its best!"
Mark Worley has appreciated the tone Sparky set for the student learning center. "Probably my best moments with Sparky have been the times when, walking past the tutoring center, I was asked to step in and pray with students who have been studying for a test or when I've heard Sparky share his passion for getting students in for tutoring."
Clearly, Sparky is going to be missed on campus. "Such decisions are always difficult," concludes President Smith. "It saddens me that these changes have necessarily caused this personnel shift. DCC must continue to find creative ways to reallocate limited resources to areas where they can have maximum effect on both the quality of the educational experience for students, and on factors that will help DCC thrive in the next several years. We pray that God brings good out of this, but especially for Sparky."
###
The mission of Dallas Christian College is to educate and mentor students to be people of influence, under God's influence, for a life of influence.