Homecoming has come and gone on another beautiful October weekend. Because last year's was such a big event at the Wyndham Garden hotel across the street, it's no surprise that this year's event was pretty small in attendance, with maybe 45-50 (counting men, women, and children) at the Friday night dinner in the Banquet Hall.
But it was an excellent occasion. Those of us who've been here for years and those of us who are new were inspired and blessed by the stories from seven alumni representing our six and half decades. And the food was great, too (pasta Alfredo, among other dishes—thank you, Chef Bergman).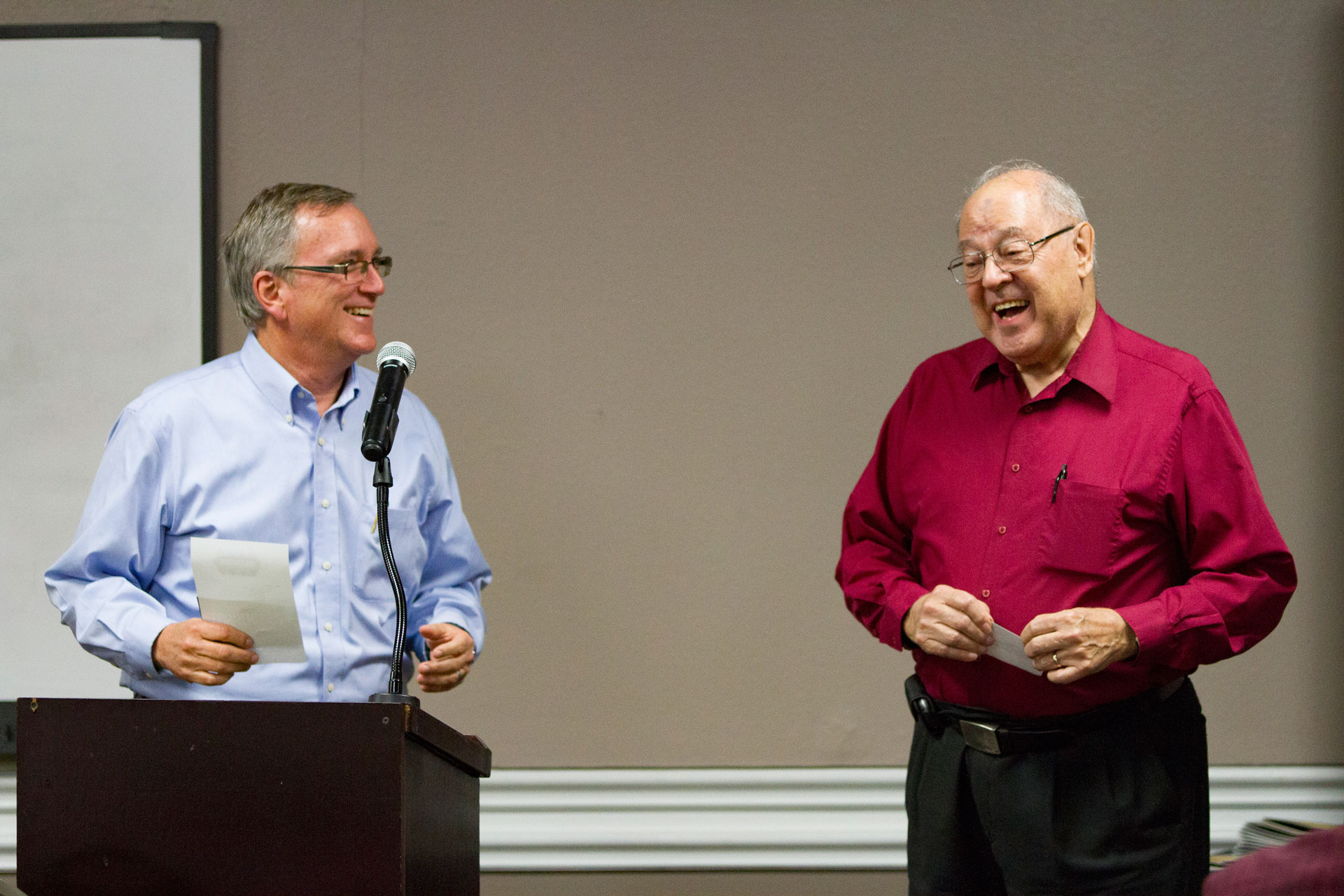 Former President Melvin Newland, class 1955, began with stories of beginner preachers going far and wide on weekends with only one sermon—which they preached up to eighteen times in a semester–and doing fine—unless they were invited back and needed a different sermon. He also reminded us of the many congregations that were planted or re-opened in those years—fifteen in five years—in a region which had no congregations supporting the college to begin with within 175 miles.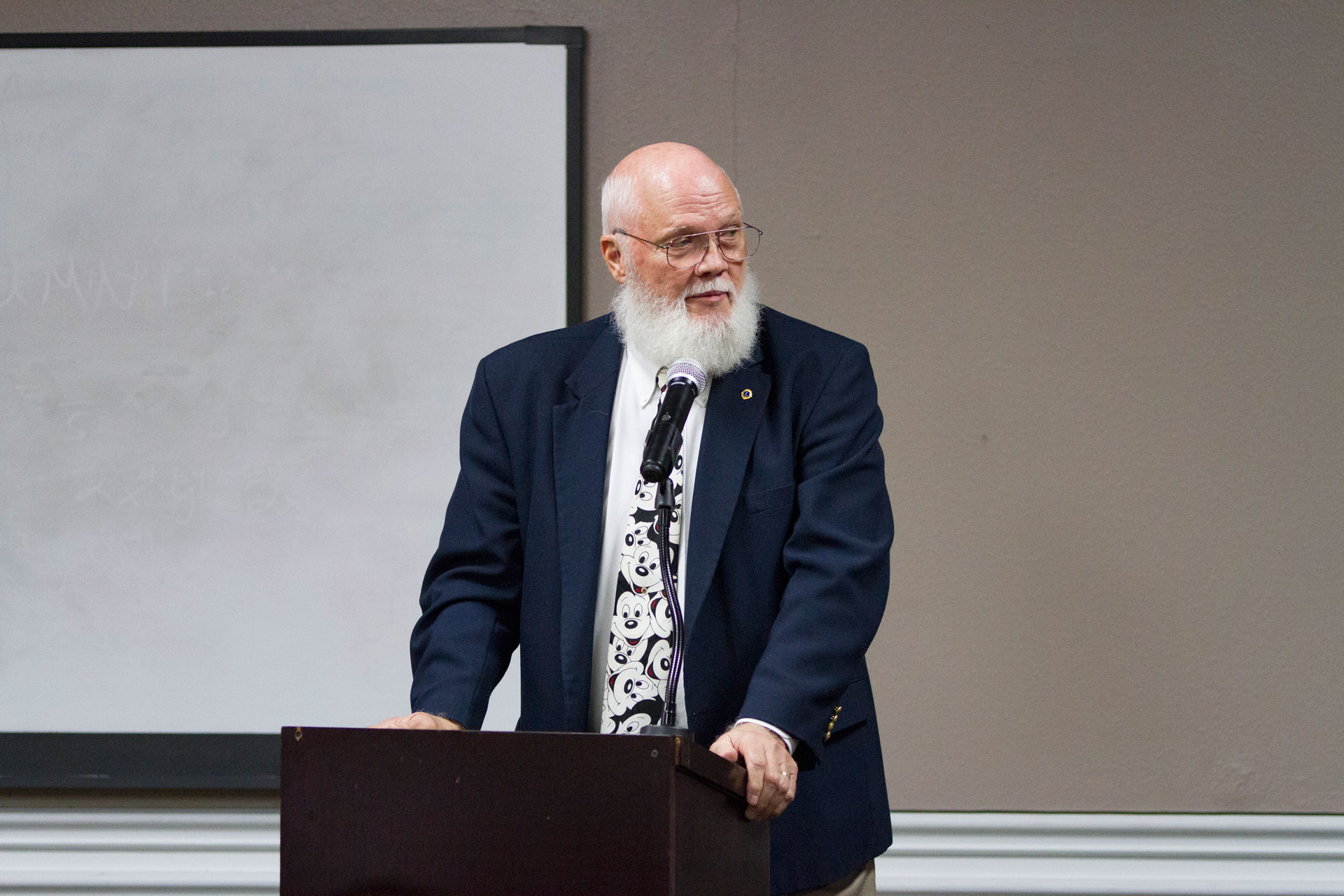 James Royse, speaking for the '60s, recalled similar years of student preaching, the days when students had to wonder whether they'd be able to get their cars off campus if it rained (no paved roads, remember?). He also remembers commuting to McKinney, going across LBJ in his Mustang and being the only car on the freeway (yes, it was true). (James and wife Joyce still minister every Sunday at Arbor Lakes nursing home near their home in Granbury.)
Mary Helen (Wilson) Frye, for the '70s, remembers the fun of coming from a local high school of thousands to the microcosm of DCC, where she was part of the largest incoming class so far—like 19? She remembers trips to Amarillo—three weekends in a row—to sing in churches with her trio, including Penny Lamb and Vickie Tullos. She remembers being a hippie and being cool (which for DCC is something entirely different from the rest of the college world). "It was a sweet and innocent time," she recalls. (Mary Helen now serves as a DCC trustee—there goes the innocence, I guess).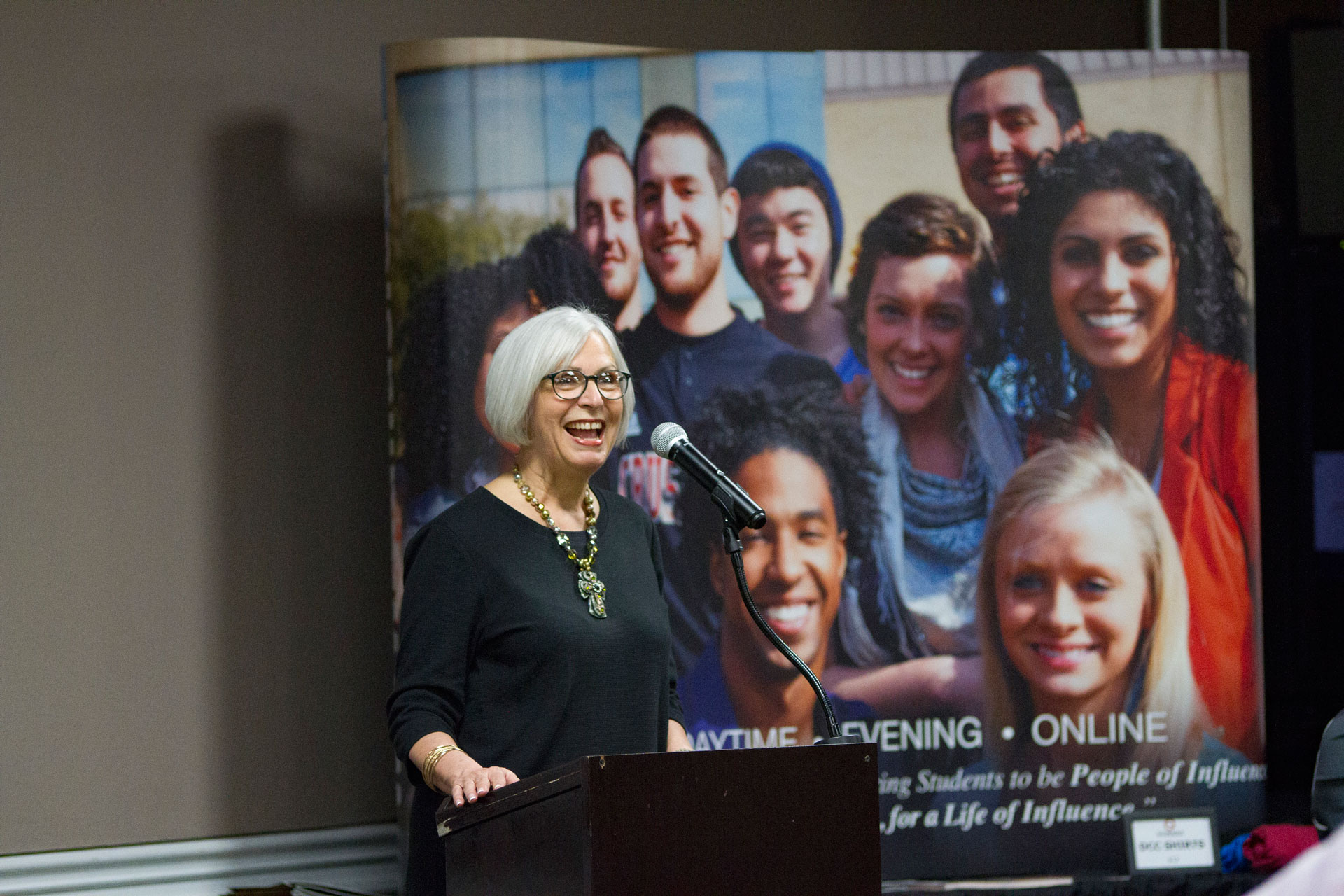 Jon Forrest, for the '80s, not only graduated from DCC but also from Heritage Christian Academy, whose headmaster Frank Sass "was like a second father to me." Jon fondly remembers crowded (now illegally so, no doubt) van trips with Revelation Singers and Brass, 10 p.m. dorm hours and demerits from R.A. Ron Clark, and a prank involving some hated choir dresses flying from the flagpole, back when the flagpole was a single pole at the corner of the two front parking lots (ask Karla Kuhl for further details about that one). He also remembers being coach of the women's basketball team; how did that happen? "Well, I'd played in a few games." And he also remembers the impressions of service and scholarship made on him by Melvin Newland, Ronnie Hanna, Mark Berrier, and Denny Slaughter (Denny taught him, "If the text doesn't support it, don't say it"). Thirty-six years, Jon is still preaching (First Christian Church in Clovis, NM).
Crystal (Wineinger) Laidacker spoke for the '90s, although, as she points out, her life with DCC goes back to the 60s: her dad was a student in the 60s and taught here in the 70s, Crystal enrolled in the 80s, finished her degree and began work here in the 90s (and has continued since then). She remembers the beginnings of the Quest degree-completion program, the addition of new majors under John Derry, and the emphasis on missional living through whatever the career. She feels strongly about DCC's pioneering spirit, grounded in Bible study, and looks forward to its future.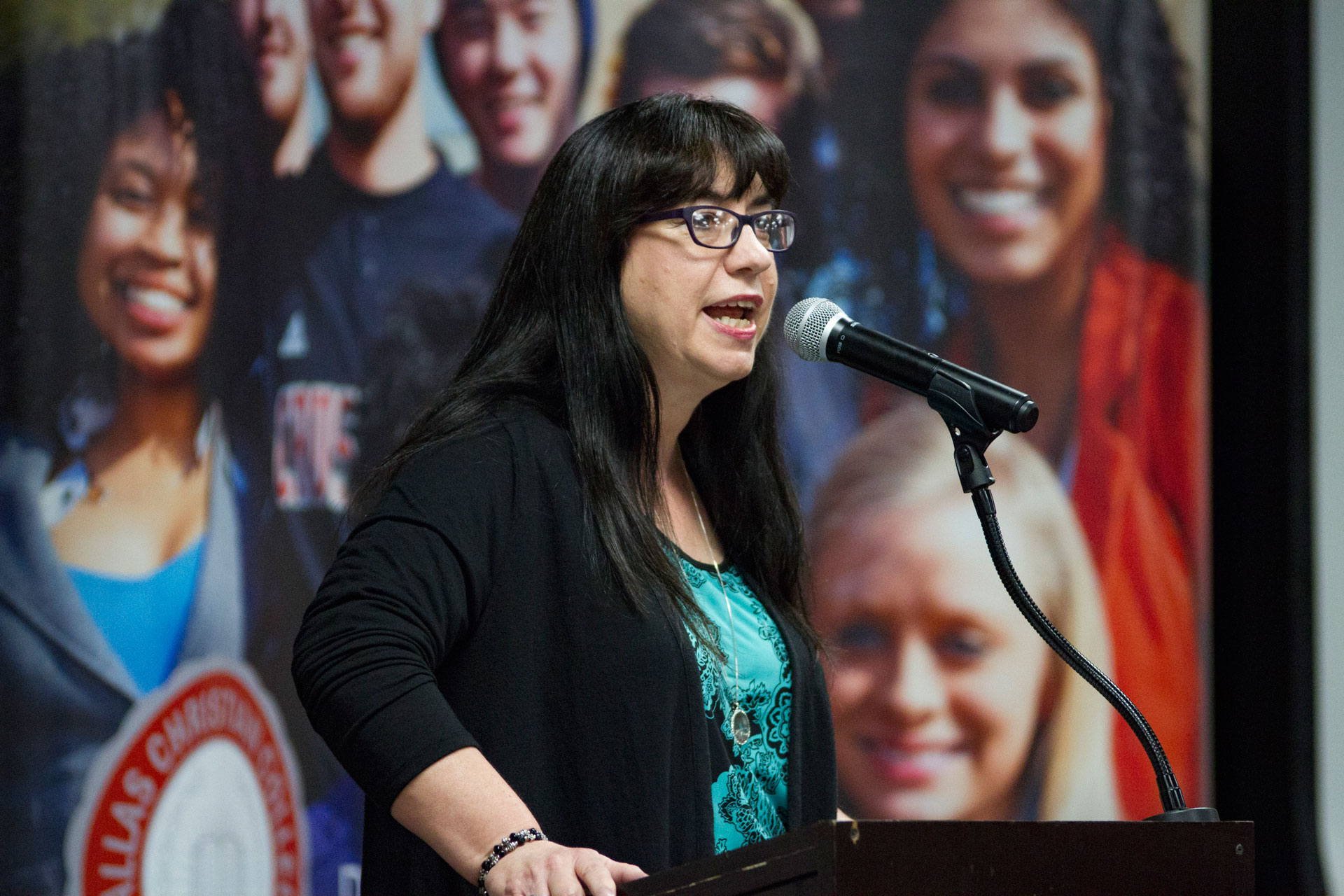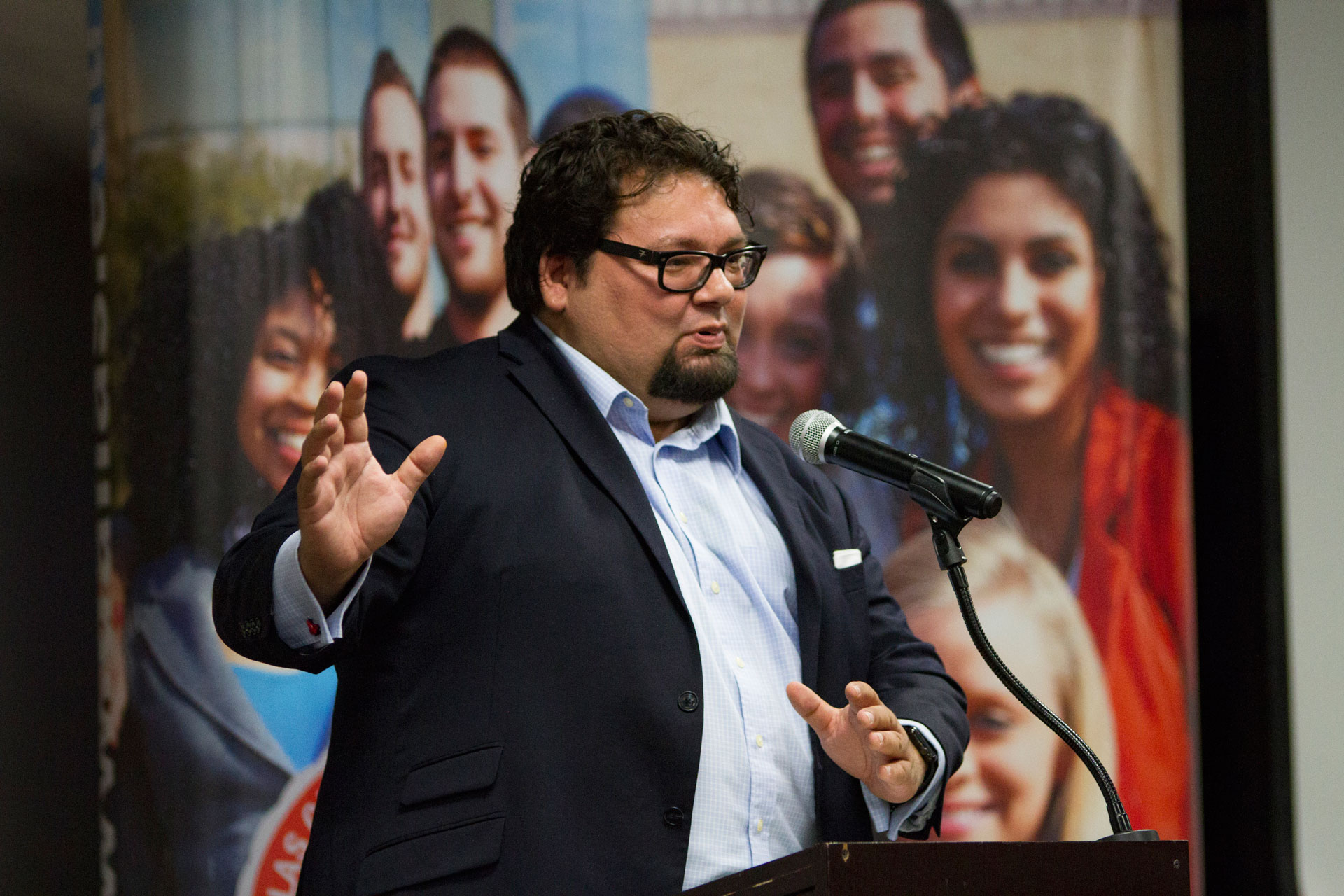 Rocky Hernandez, for the '00s, recalls dorm life as aggressive and lacking in a sense of humor, boxing and wrestling being the favored pastimes. Changes were coming fast—from pay phones and wireless to cellphones. "We were arrogant," he says. "I miss my twenties—I don't know anything anymore." Graduating and being ordained in May 2001, he found himself equipped for the ministry, and when the attacks of September 11 occurred, he found himself able to navigate that. Whatever is next, he says, "We're going to figure it out together, based on Scripture."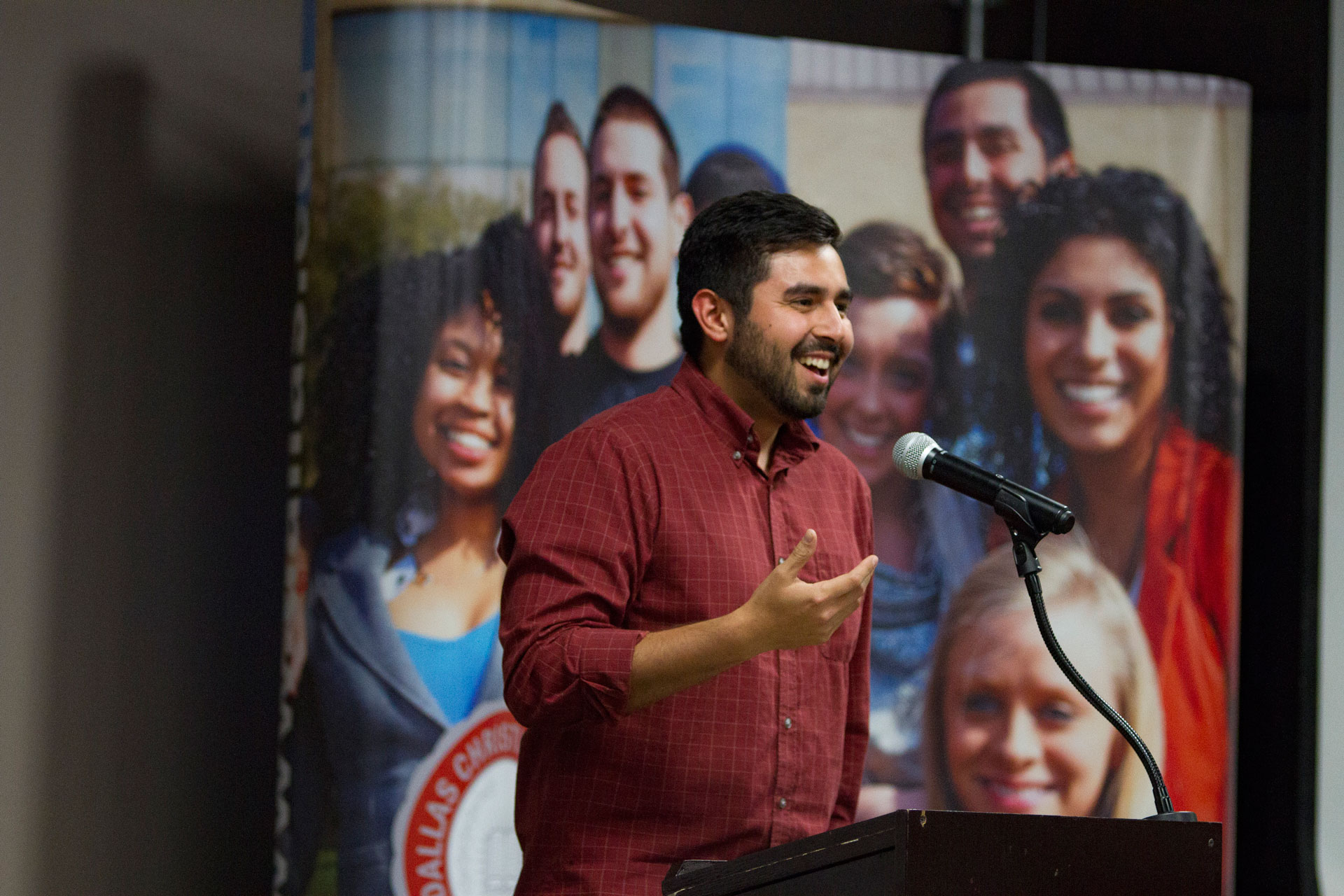 Dylan Hussey completed the story for the current decade. At seventeen, he arrived on campus in 2009 without even having seen any pictures of it. "This is it?" he asked. Meantime he was amazed that another student, Donivan Allen, though a stranger to him, was picking up Dylan's refrigerator and carrying it upstairs for him. And then he asked, "Where's the baseball field?" There was none, of course. But he was here to play baseball. He played his first year, but technicalities kept him from playing his second year, and in that time transformation was occurring. By third year, he had met his future wife (Ciara Latour) and was also going into ministry. "I don't have to play baseball," he realized. "Playing a part in the Kingdom of God: I had to do that." He still loves baseball, but serving the Lord is clearly foremost. (He and Ciara serve at Southwest Christian Church in Ft. Worth.)
Though the dinner was the main event, chapel on Friday morning featured Melvin Newland being interviewed by Mark Worley about Melvin's father, Vernon Newland, the school founder. Praise time was led by alumni David Gilbert, '01, Will Warfel, '04, Chris Haney, '08, Zach Worley, '09, and Caitlin Martin, '16.
Changes have occurred at DCC over the years—campus improvements, extended curriculum, classroom technology, racial and ethnic diversity, changes in faculty and staff—but, as President Smith summed up, the challenges and the opportunities remain the same. DCC is still here to serve the changing world by serving the living God.
Dr. Cara Snyder is professor of English and literature at Dallas Christian College and managing editor and senior writer at the Cornerstone