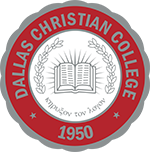 FOR IMMEDIATE RELEASE: June 24, 2016
Dr. Perry Stepp, vice president for academic affairs, has announced his resignation from Dallas Christian College, serving his last day on June 24th, 2016.
Dr. Stepp released the following statement:
"During my time here, I have been part of building an incredible faculty.  They are simply the finest group of people I have ever known, as scholars and teachers and human beings.  It has been a daily honor and blessing to work with them.  
It's also been a joy to work at my alma mater; these halls and rooms hold more memories than I can count.  Dallas Christian College is the place where I learned to hear God's voice and follow his call for my life.
Thank you for being part of that, and for the privilege of working with you.  I pray that God will richly bless you as you continue in his will."
President Smith made the following comment about Dr. Stepp: "Perry has been involved in so many aspects of the College, and we know that many current DCC students and graduates were prepared for Kingdom work both through his instruction in the classroom and by observing his own personal ministry. We wish him the best as he moves into this next phase of his life and ministry."
Dr. Stepp was appointed academic dean in 2012 after serving at Kentucky Christian University for a number of years. He played an important role in developing the College's most recent strategic plan and was involved the advancement of FLEXCampus®, DCC's newest professional education program.
President Smith and his leadership team will begin a search for Dr. Stepp's replacement. More information regarding the position vacancy will be updated to the College's website as it becomes available.
###
The mission of Dallas Christian College is to educate and mentor students to be people of influence, under God's influence, for a life of influence.
Public Relations Contact:
Matthew Meeks
VP for Communications
mmeeks@dallas.edu
(214) 452-8161