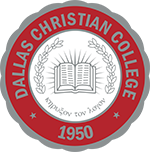 FOR IMMEDIATE RELEASE: July 7, 2016
DCC Welcomes New Practical Ministries Department Chair
DALLAS, TX- The Academic Department of Dallas Christian College announced today that Dr. Eddy Sanders has been appointed Chair of the Practical Ministries Department.
Dr. Sanders will be teaching Bible and ministry courses beginning fall 2016 and will be developing co-curricular programming to engage students in ministry both during and after college, thereby fulfilling a key role in DCC's mission to raise up people of godly influence in the church and in other parachurch ministries.
"When my wife, Cheryl, and I first visited Dallas Christian College in the spring, I became very impressed with the faculty and the DCC team," said Dr. Sanders.
"It was obvious that they have a strong desire to impact the world for Christ and His Kingdom. This is something they talked about consistently throughout the interview process."
When asked about his philosophy on student ministry education, Dr. Sanders spoke to the very core of DCC's mission and vision. "The world is filled with hurt and pain," Dr. Sanders said. "Jesus approached this hurting world with a mission, and He accomplished this mission through service—and the world still needs that today. I believe that ministry-minded students are service-oriented students."
Dr. Sanders' perspective on preparing students for ministry is a good fit for DCC's mission. "I know that DCC has a long history of training Christian leaders and church leaders to serve in the Church, in the marketplace, and in other ministries all around the world—I'm thrilled to be a part of this ministry," he said.
In 2007, Dr. Sanders was commissioned as a chaplain in the United States Air Force. He currently serves with the 442 Fighter Wing at Whitman Air Force Base in Knob Noster, Missouri. During his early years as a chaplain, he also served as discipleship minister at Madison Park Christian Church developing spiritual formation programs, ministry teams, and coordinating adult discipleship programs.
Dr. Sanders will spend the spring semester of his first year at DCC on active duty with the Air Force as a chaplain, an experience which will serve the College well, especially since DCC enrolls a high number of active service members and veterans. Many of these students have graduated and gone on to serve both as military chaplains and in other fields of ministry.
"We are so excited and proud to have a reservist and now active member of the armed forces on our faculty, especially a chaplain, as we know a number of students who have similar aspirations after college. DCC is a great place for veterans–many of them often say they found a home at DCC, a real family," said Eric Hinton, dean of students.
"The hiring of Eddy Sanders is a terrific development for Dallas Christian College," said Dr. Brian Smith, DCC president.
"His unique background and range of experience makes him an ideal candidate for a position as vital as this one is to our College. We look forward to seeing the many students who will engage in Kingdom work through his direction and leadership of the department," President Smith added.
Dr. Mark Hahlen, Bible Department Chair, said the hiring process was lengthy, but the search committee was thrilled with the results. "The search committee was impressed with not only Dr. Sanders' track record of exemplary teaching and administration, but also by the unique combination of experiences within church and parachurch ministries of varying sizes and types that will inform and enhance his teaching and mentoring of DCC ministry students," Dr. Hahlen said.
Dr. Sanders together with his wife, Cheryl, and three kids, will be moving to Dallas in July and will begin service at DCC in the fall semester.
Ministry Experience and Education 
In 2012, Dr. Sanders completed his Doctor of Ministry from Biola University's Talbot School of Theology in California. He holds two masters degrees: a Master of Arts in Old Testament and a Master of Divinity, both from Lincoln Christian Seminary. He completed his Bachelor of Arts degree in Biblical Studies from Point University in West Point, Georgia.
Dr. Sanders was the Chief Academic Officer and Professor of Biblical Studies and Ministry at Saint Louis Christian College before coming to DCC. Along with his academic administration duties, he also taught homiletics, ministry, preaching, and preaching internship with focuses on encouraging critical thinking in ministry and advanced theological topics. He has also taught as an adjunct professor at Hope International University, Mid-Atlantic Christian University, and Central Christian College of the Bible.
Dr. Sanders also serves as president on the board of Mission to Russia – an organization founded after the fall of the Soviet Union to plant Christian churches in Russia, and plans to continue his work with the organization while at DCC.
Throughout his seminary education, Dr. Sanders served as senior minister for three different churches: Hartselle Christian Church in Hartselle, Alabama, Ancona Church of Christ in Peoria, Illinois, and Metcalf Christian Church in Metcalf, Illinois.
Selected Publications and Presentations by Dr. Sanders
"Serving the Word: Essays in Honor of Dr. Chuck Sackett." Co-Edited with Dr. Frank Dicken. Wipf & Stock, 2015.
"A Troubling Word: Preaching Old Testament Prophetic Texts." In Deuteronomy: The Prophets and the Life of the Church. Mosiac Press, 2014.
"Preaching the Old Testament Prophets." Stone-Campbell Journal Conference. February 2012.
"The Priority of Preaching." Christian Standard. April 2012.
"Numbers Matter." Christian Standard. April 2011.
"Prophetic Commitments for the 21st Century Leader." Christian Standard. August 2010.
"Prophetic Lessons for the 21st Century Leader." Christian Standard. August 2010.
For more information about the practical ministries program at Dallas Christian College, contact the Office of Admissions at (214) 453-8155.
###
The mission of Dallas Christian College is to educate and mentor students to be people of influence, under God's influence, for a life of influence.
Public Relations Contact:
Matthew C. Meeks
VP for Communications
mmeeks@dallas.edu
(214) 453-8161