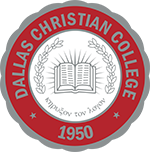 FOR IMMEDIATE RELEASE: August 31, 2016
C.C. Crawford Library to Become the C. C. Crawford Library and Student Learning Center
DALLAS, August 31, 2016-"It's a wonderful thing when one solution can resolve two pressing concerns," stated Bruce Long, Interim Vice President for Academic Affairs, about moving the student learning center on the third floor into an enlarged space in the C.C. Crawford Library. "The expansion of degree offerings in recent years has created a classroom space issue that has made it difficult for the Registrar to get all the necessary classes scheduled into appropriate classroom spaces. The student learning center is in an excellent space, but it is on the third floor, which can be difficult for an injured athlete or a student with a physical disability to access. This move helps solve both of those issues."
The C.C. Crawford Library already provides great study spaces. By removing some unnecessary items and relocating some less-requested items, there will be even more space for active learning, collaborative learning, and tutoring. Plans are in place to also add two group work areas that will seat five students around a large-screen monitor. Students will be able to use a computer connected to the monitor or connect a laptop to be able to work on projects together. Athletes regularly need to watch class recordings in the learning center, and these stations will be a great place for that to happen. They will all plug in their earbuds to the headset distribution bar, and they can watch together.
This change reflects two trends in libraries and learning spaces. Libraries are much less about a "hush-hush" place to study and more about students learning "out loud" together. Using digital library resources enables libraries to serve distance education students and to provide 24/7 library availability for on-campus students. Dallas Christian College has benefited from the accessibility of digital resources for several years and now is taking advantage of he space savings as well.
"Students have embraced using tables with 4 or more seats. Adding a computer and a monitor will enhance that experience. Teaching students how to use our digital resources will be more effective as they reinforce each other's learning" said Mrs. Reynolds. "'Just in time' training is the best use of time for the teacher and the student as opposed to training for a future need. The impact is greater and reinforces successful learning for the future.
Jane Reynolds, the Director of the C. C. Crawford Library, will oversee the services of the student learning center. Current tutors will be cross-trained as library workers. This will enable them to provide research assistance with all the print and digital materials immediately available. In the same way, library workers will be cross-trained as tutors to be actively serving students while they are on duty. This will bring a new level of efficiency and service to both the library and the learning center.
###
The mission of Dallas Christian College is to educate and mentor students to be people of influence, under God's influence, for a life of influence.