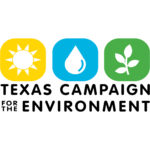 Website txenvironment Texas Campaign for the Environment
A Texas free from pollution
TEXAS CAMPAIGN FOR THE ENVIRONMENT (TCE) envisions a Texas free from pollution, where all communities have equal access to healthy land, water, and air.
We are the largest and most successful environmental nonprofit in Texas, and the only one with a state-wide presence in all 181 legislative districts in Texas. A few of our successes include:
· Win recycling in apartments and condos in Dallas by 2020
· Pressure polluters to pay for and complete cleanup at a toxic waste site in Houston after Hurricane Harvey
· Phase out toxic flame retardants from furniture at Fort Worth-based Pier 1 Imports
· Rayovac publicly announcing its support for manufacturer-led battery recycling programs
Our dedicated year-round presence in our community, and the crucial grassroots organizing that we do every day, has resulted in monumental changes in our state and local environmental policies, and we've held polluters accountable for their actions! TCE has truly pioneered a community-based structure of organizing.
We need new voices to add to our current staff of professional, skilled, and passionate activists to strengthen our community lobbying presence. We offer extensive training, and opportunities for management experience and travel.
Qualified candidates possess strong communication skills and a genuine passion for the environment and progressive politics. Some related non-profit, political, or volunteer experience is preferred but not required.
The Community Organizer will be responsible for creating relationships within designated community areas of the city and building our grassroots base of supporters. The Organizer will be held to high expectations of performance with weekly and monthly goals for various organizing activities.
Key Responsibilities:
Further our political organizing and public education efforts through:
· Grassroots community organizing
· Membership recruitment and fundraising
· Grassroots community outreach and coalition-building
· Identifying voters and volunteers
· Planning and participating in demonstrations and political actions
· Meeting with elected officials and other policymakers
Hours:
Monday-Friday, 2 p.m.– 10 p.m.
Pay:
Full time: $450/week+bonuses
Benefits include:
· Comprehensive benefit package including health, dental and vision available for full time employees after 90 days
· 2 weeks paid vacation per year with holidays and sick days
· Potential for rapid advancement and management training
· Opportunities for travel throughout Texas and the U.S., including national and regional conferences
· Valuable campaign experience from the perspective of an NGO advocate
Qualifications:
· High-level relationship building skills with the ability to build consensus, engage a wide range of diverse stakeholders and allies, and navigate complex community and political dynamics.
· Ability to work independently, problem solve, and manage time and priorities.
· Good listening,speaking, and writing communication skills.
· Team-player.
· Genuine commitment to the environment, progressive politics, and the vision of a just and equitable society.
· Some related non-profit, political, or volunteer experience is preferred but not required.
· Bilingual skills a plus.
To apply:
Complete our application: http://www.texasenvironment.org/careers
Find us:
• Web: www.texasenvironment.org
• LinkedIn: www.linkedin.com/company/texas-campaign-for-the-environment
• Facebook: www.facebook.com/texasenvironment
• Twitter: www.twitter.com/txenvironment
• Instagram: www.instagram.com/txenvironment
We are an Equal Employment Opportunity Employer!
It is the policy of TCE to provide equal employment opportunity (EEO) to all persons regardless of age, color, national origin, citizenship status, physical or mental disability, race, religion, creed, gender, sex, sexual orientation,gender identity and/or expression, genetic information, marital status, status with regard to public assistance, veteran status, or any other characteristic protected by federal, state or local law. In addition, TCE will provide reasonable accommodations for qualified individuals with disabilities.